Sound Machine 2010 & Beyond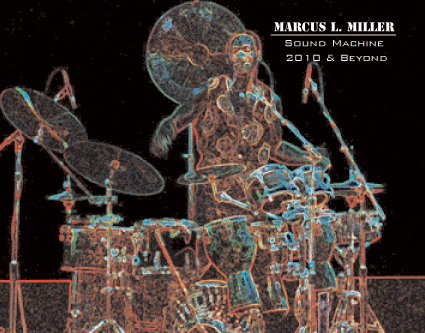 Sound Machine 2010 & Beyond
Sound Machine 2010 & Beyond is a collection of original compositions written by artist/percussionist Marcus L. Miller. The album features Miller's experimental use of electronic technology. 2010 Universe Soul Records release. Click here to hear tracks.
Sound Machine 2010 & Beyond
This CD features compositions by Universe Soul Records artist Marcus L. Miller. This 2010 release is part of a 4 CD compilation to celebrate Miller's 40 year solar return. Sound Machine is a reference to Miller's Roland electronic V-drums which he has slowly integrated over time into his percussion arsenal of sounds. All tracks are played on V-drums and the synthetic sound is a playful nod to the 80's...the generation that changed the sound of music forever.
*The tracks on this album will be uploaded to a flash drive and shipped to you. To ensure the highest quality, the digital tracks are 24 bit/44 Hz and NOT mp3 files. Your ears and system will appreciate the audible difference.